Swim lessons are held at the pool at the Millennium Harvest House – 1345 28th St., Boulder, CO 80302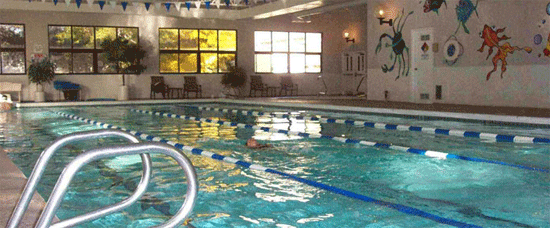 Directions to Millennium Harvest House
The Millennium Harvest House is located on the west side of 28th St., just south of the Safeway shopping center on Arapahoe Ave.
The most direct way to the indoor pool is from Folsom Ave. by turning onto the frontage road behind Jo-Ann Fabric & Craft store.  It is located between Arapahoe Ave. and Taft St.  Be prepared to turn right immediately into the parking lot for the hotel.  Entrance to the pool is on the northeast side of the parking lot. The building with several large windows is where both the indoor and outdoor pools are located. There is also an outdoor hot tub.
Preparation for Swim Lessons at the Millennium
Enter the pool area and make sure to sign in for swim lessons. Locker rooms and small towels are available. I recommend bringing your own towel and lock. Long hair needs to be secured or tucked into a swim cap. Please bring goggles.
Easy Way to Protect Skin and Hair from Chlorine
Shower before entering pool (entire body including your hair).
Apply sesame oil to your skin.
If desired, apply conditioner to hair. Using a swim cap further protects hair.
If your skin absorbs water before exposure to chlorine, the amount of chlorine it can absorb will be minimized. In addition, sesame oil acts as a repellent. The same principles apply to hair.