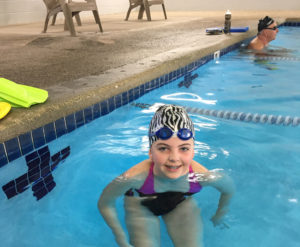 Swim lessons are at the
Colorado Athletic Club – Flatirons:
505 Thunderbird Drive
Boulder, CO 80303
Directions to CAC-Flatirons location
From Baseline Road, just east of Foothills Parkway, turn south on Mohawk Drive. Proceed past Meadows Shopping Center. Turn left onto Pawnee Drive, then left onto Thunderbird Drive, and finally left onto Thunderbird Court East.
Preparation for Swim Lessons
Enter the pool area and make sure to sign in for swim lessons. Locker rooms and small towels are available. I recommend bringing your own towel and lock. Long hair needs to be secured or tucked into a swim cap. Please bring goggles.
Easy Way to Protect Skin and Hair from Chlorine
Shower before entering pool (entire body including your hair).
Apply sesame oil to your skin.
If desired, apply conditioner to hair. Using a swim cap further protects hair.
If your skin absorbs water before exposure to chlorine, the amount of chlorine it can absorb will be minimized. In addition, sesame oil acts as a repellent. The same principles apply to hair.