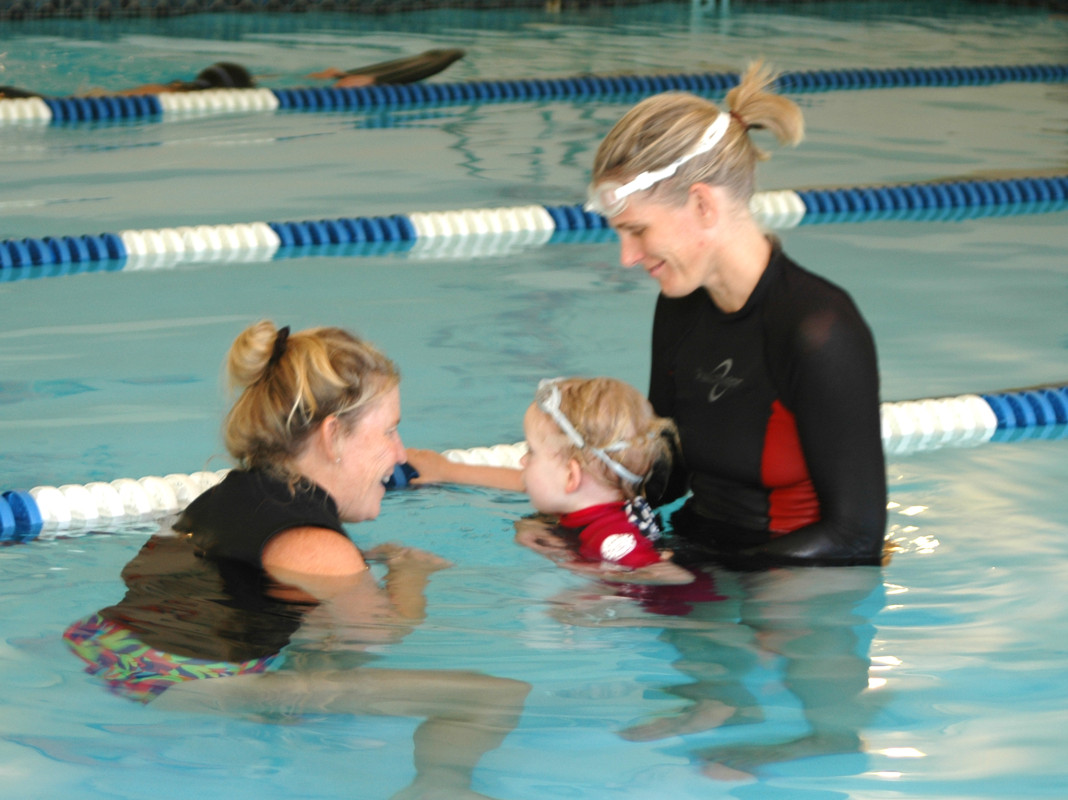 Whenever a child walks into a room, I feel like bowing, because I don't know what great person I might be in the presence of.— Goethe
I am honored to teach young children how to swim because they have to trust me. I feel incredibly grateful to share my love of water and swimming with the very young.
Swimming can be a lifelong skill, so it is important that one's early experiences be positive and successful. My approach embraces the whole child with the intent to develop physical attributes like strength, power, speed, endurance, and gracefulness. I also value enhancing their life, both in and out of the pool, by providing a learning experience that builds confidence and self-esteem, and teaches discipline, perseverance, independence, and trust (in oneself and others). Instilling a respect and love of water is always a high priority.
How it works:
Prior to lessons, I learn about a child's background to understand any obstacles such as past problems with ear infections, blocked nasal passages, difficult birth, prior experiences with other instructors, trauma, learning disabilities, sensory integration challenges, or fear.  The parents' swimming background is equally important, especially if they are non-swimmers or are afraid of water. I also like to know if any relative or family member has drowned.
My method:
I start children out at a pace that does not feel overwhelming or threatening. I use the first few weeks of lessons for observing and getting to know them. I key in on their relationship to water and discern whether their body is open or closed to learning. If they are tense that tells me the body is closed and, until that changes, I focus on exercises designed to foster relaxation and ease before I put an entire stroke together. Sometimes the student just needs to get familiar with water. For others, the challenges can be greater.
I believe everyone can learn how to swim. It's a matter of creating the right environment for that to come through. We tend to forget that we all start life in water and our own bodies are comprised of 90% water. Whether or not swimming becomes a lifelong pursuit will vary for each person. For me, I was destined to spend a lifetime in water.
Early on I establish a sense of comfort with children that can include blowing bubbles underwater, knowing how to come up for air, and what it feels like to touch the bottom of the pool for the first time. I gauge very carefully when it is time to put a child on his or her back–the most vulnerable position. Often the fear of sinking causes the stomach and neck muscles to go rigid, and getting comfortable with water in the ears can take time.
Once I've established a solid foundation based on the ability to float, proper exhaling and inhaling, and a sense of how to move forward by kicking or pulling the water, I begin to teach all four competitive strokes: freestyle, backstroke, breaststroke, and butterfly. During the course of a semester each lesson is tailored to the individual's needs on any given day. In the foreground of any teaching day for me is tuning into what's happening with my student. I assess energy levels, alertness, attitude, and how he or she is feeling. In the background is my lesson plan and overall goals for that student. I flow back and forth between what the student is capable of and what he or she needs. I use repetition to educate the nervous system and upgrade skills as appropriate.  Step by step each stroke comes together.